Gen Zers, the next generation to watch are so different from other generations that they speak some divergent sh*t. These are twenty popping words only Gen Zers can understand.
1.
Adulting-
Short for "adult," meaning maturing or growning-up.
2.
Tea-
another word for gossip.
3.
Woke–
To be aware of pop culture or social issues
4.
Shade-
When criticising a person
5.
Dead–
That reaction after a bad "shade".
6.
Fam–
From "family", used to describe someone you're close to and can trust, sometimes used ironically.
7.
Firing Shots-
When someone says something to another person to attack a person. Mostly cynical conversations.
8.
Shaking tables-
Talking about a social issue that may cause societal conflict.
9.
Bet–
Similar to "word" meaning " Alright" or "in affirmative"
10.
Draking-
Usually used when describing emotions or feeling emotional.
11.
Thirsty-
When someone looks desperate for attention.
12.
Extra-
Being over the top

13.
Finesse-
Noun- The new "on fleek"—when something is very good or cool.
Adjective- Showing some skills at something or being impressive.
14.
Glow up-
This means when you "can't be stressed" or you've been transformed to a "new level".
15.
Yaaasssssss-
Meaning "Yes" in an extremely exaggerated way
16.
DMs-
Named after "direct messages" a section on most social media platforms
17.
GOAT-
Short for "Greatest of all time".
18.
BAE-
Significant other, closest friend or lover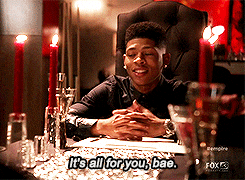 19.
Bruh-
A male friend or what you call a regular friend either male or female
20.
Gucci-
Means "good".
Meanwhile, did you know that Facebook is currently loosing Gen Zers to other social media platforms like Instagram and Snapchat. Read more about it here.
Xoxox.😉😉